Stay Running Smooth
No one knows your Lexus better than we do. Let us help you find the oil that was specifically made for your vehicle.
Schedule Oil Change
Scroll to Learn More
While we recommend consulting your Warranty and Services Guide, most Lexus vehicles will need an oil change every 5,000 to 10,000 miles or every 6 months, whichever comes first. The interval may be different depending on your driving conditions and the motor oil that you use. Even if you find yourself not driving as much in the current environment, please remember that oil can deteriorate over time.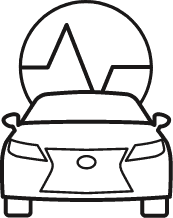 At Lexus of Albuquerque, we recommend full synthetic oil changes. Synthetic oil is designed to have a longer lifespan than conventional oil, allowing you to take advantage of a longer interval between oil changes. It also withstands temperature extremes better and is more resistant to oxidation and chemical degradation. Always consult your Warranty and Services Guide for the optimal oil type for your vehicle as some Lexus vehicles use conventional oil.
Oil changes are crucial to ensure optimal performance from your Lexus. Motor oil breaks down and collects debris over time, making it less effective. Without routine oil changes, heat can build up and damage engine components. Regular oil changes also help with fuel efficiency and protect your engine from corrosion. Schedule an oil change near Albuquerque. Our service team provides expert service from our Lexus Certified Technicians.
Schedule Oil Change