Superior Safety
No one knows your Lexus better than we do. Let us help you find the brakes that were specifically made for your vehicle.
Schedule Brake Service
Scroll to Learn More
Your brakes are one of the most important parts of your vehicle, so why take chances on re-built or inferior brake products? Genuine Lexus brake components are designed specifically to meet original factory specifications. From brake pads to calipers, rotors, drums and shoes, Genuine Lexus brake components help provide safety and durability.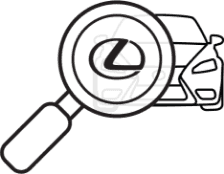 If you experience any of the signs below, your brakes may be worn and need immediate inspection.
The brake light is on.
When pressed, the brake pedal almost touches the floor.
Your vehicle is taking longer than usual to stop.
The brakes squeal or make a grinding sound.
To schedule a Lexus brake inspection, service, or repair appointment at Lexus of Albuquerque for your Lexus sedan or SUV, contact our Albuquerque Service department today. We can help schedule your service appointment on a day and time convenient for you.
Schedule Brake Service